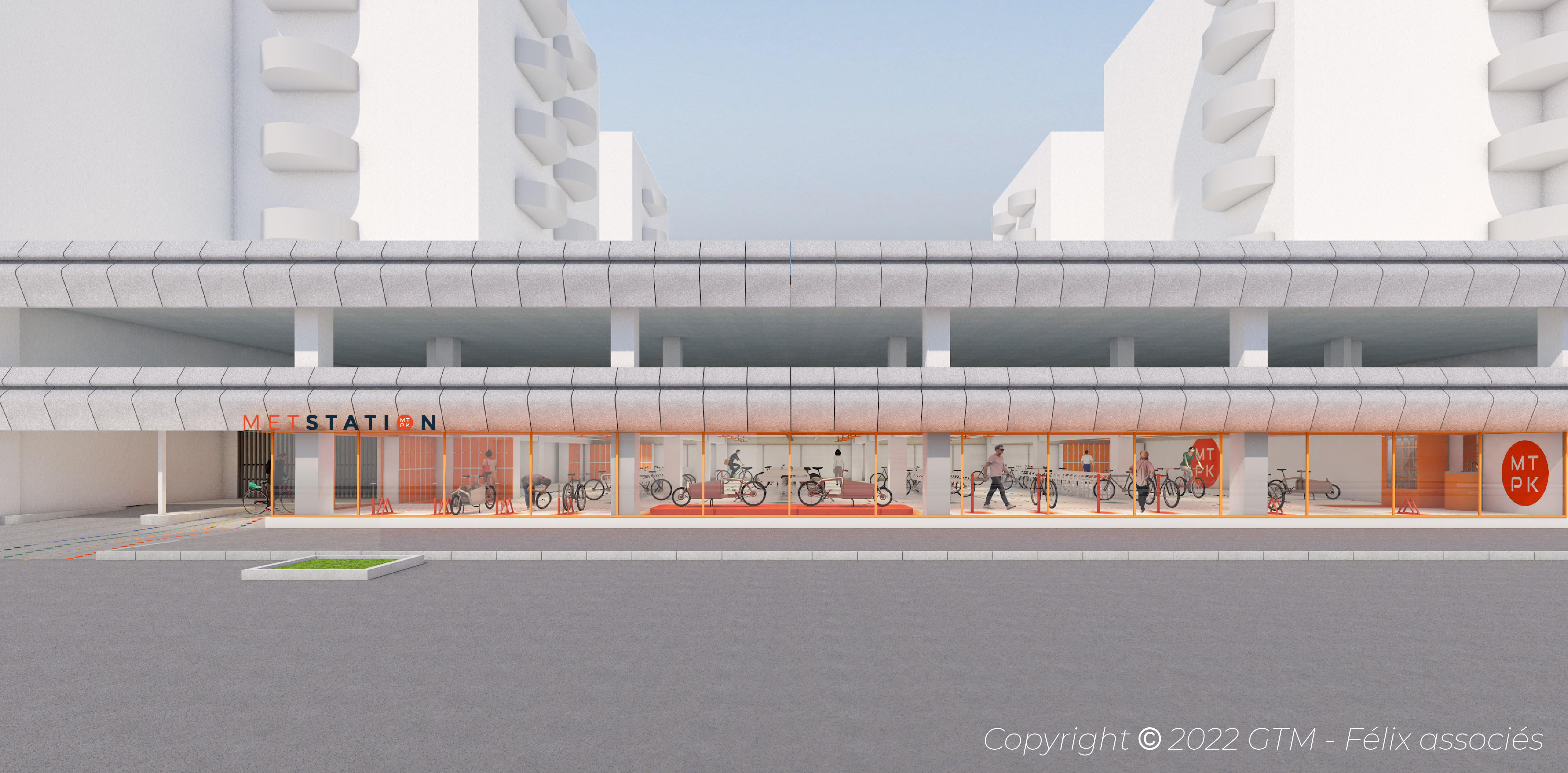 METPARK presents METSTATION: a parking and service area designed and developed by METPARK. This custom-designed space meets the specific needs of users of sustainable mobility.
Faced with the rapid progression of urban transport modes, METPARK is innovating and developing a new concept, adapted to all forms of sustainable mobility: METSTATION. Bikes, scooters (electric or not), cargo bikes and handbikes will soon be able to have specific spaces in a secure area.
A parking offer associated with services
More than a parking solution, METSTATION is a complete system made up of practical services such as: inflation stations, bicycle repair terminals, washing areas, lockers with sockets for recharging the batteries of electric bicycles.
Comfort and safety are also at the heart of the concept. The facades have been worked to increase the brightness, light circuits and guidance in the place will facilitate the orientation of users towards the available locations.
A commercial space for mobility players
Do you offer solutions for users of soft mobility? We can provide a commercial area in the METSTATION to display or sell your products or services! Benefit from a highly visible commercial space, with a large window close to your core target.
Do not hesitate to contact us: metstation@mtpk.fr
Rapid deployment of METSTATIONS in Bordeaux area

The first METSTATION will open in the May 8, 1945 car park (Mériadeck sector) at the end of 2023. By eliminating 23 parking spaces currently dedicated to cars, the Régie has created a 500 m² space there including 192 bicycle spaces, 37 spaces for cargo/tricycle bikes, 7 of which are possible for handbikes and lockers for scooters.
Other METSTATIONS will be deployed in the Pey-Berland, Victor Hugo and Front du Médoc car parks by the end of the 1st quarter of 2024 with 600 additional spaces at stake.
METPARK now has 16 bike rooms spread over 7 municipalities in Bordeaux Métropole and wishes to transform each of these spaces into METSTATION by 2026.
"We will have a network of 8 METSTATIONS by 2025 and 2,000 to 3,000 parking spaces dedicated to soft mobility, but we are not going to stop there! We want to increase the number of locations in all of our car parks".
Nicolas ANDREOTTI, Director of METPARK.
See you in December 2023 to discover the 1st METSTATION May 8, 1945 car park – Mériadeck sector